If you are a true cricket fan, you must know about the history of cricket and individual batting performance. Mainly cricket sport has three formats: international (ODI), T20, and Test cricket. Cricket is technically a team sport; there are eleven players on each side. Every cricket player gives their hundred percent on the field to win the match for their respective team.
The cricket sport is worldwide famous, and many countries have their international team, including India, Sri Lanka, South Africa, Australia, and many others. There are many batting records in cricket to be proud of, but what is the best of them all? Can you guess which cricketer has scored the fastest century in ODI cricket? If you do not know, you don't have to worry about it. We will introduce the top two batters who scored the fastest century in ODI cricket.
AB De Villiers
AB de Villiers is a South African player known as a 360-degree player because of his batting style. He is known as the 360-degree player because he scored runs all around the stadium, whether it is on the leg side, offside, cover, mid-on, mid-off, and point. AB de Villiers is one of the greatest one-day international batsmen of all time. He scored many runs in his ODI career, broke some unbreakable records, and reached the milestone with his batting performance.
He also captained the South Africa team in his time. When he was in the form, bowlers were frightened to bowl him. He is such a breakable record player and has achieved lots of records in his cricketing career.
Some records include the fastest and youngest South African batters to reach 1000 runs in test cricket after Graeme Pollack. He also holds the record of scoring the fastest fifty and century in ODI cricket. He took only 31 balls to score 100 runs in one-day international cricket playing against West Indies in Jan 2015.
He has a record of hitting maximum sixes in a one-day international inning along with Rohit Sharma. He also holds the record for fastest 150 runs in ODI cricket just in 64 balls in Feb 2015 against West Indies in the exact match they won by 257 runs. He played only 66 deliveries in that match, scored 162 not out, and made the second-highest world cup total score 408-5.
In his fastest ODI hundred inning, he scored 149 runs in 44 deliveries by hitting 16 sixes and nine fours. Still, in January 2022, he is the fastest century scorer in ODI cricket. He is undoubtedly one of the greatest batsmen in ODI cricket of all time.
CJ Anderson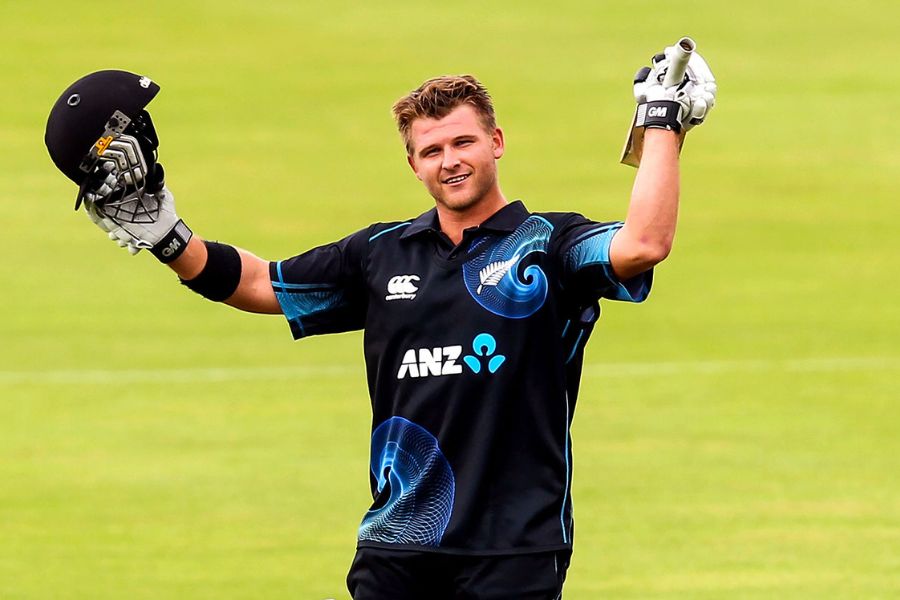 CJ Anderson is a New Zealand cricket team player, and his full name is Corey James Anderson. He is a left-handed batsman, and he is also doing bowling.
His role in the New Zealand cricket team is batting all-rounder. He is playing many matches for the New Zealand cricket team. He played 13 test matches for the New Zealand team and scored 683 runs in 22 innings, and in test cricket, his highest score is 116. In his test cricket career, he hit 94 fours and 14 sixes.
He still holds the record of scoring the second-fastest ODI century. In his fastest ODI century, he took only 36 balls to score a hundred runs against West Indies and broke the Shahid Afridi records. Corey Anderson played many international cricket matches in his career and made many records. In his fastest ODI century inning, he took only 47 balls and scored 131 not out by hitting 14 sixes and six fours.
In his one-day international career, he played 49 matches and scored 1109 runs in 45 innings at an average of 27.72 with one century, and his highest score in ODI cricket is unbeaten 131. He played many first-class cricket matches before his debut in an international cricket match. His debut in one-day international cricket at Cardiff against England June 16, 2013. And played his last ODI match at Cardiff against Bangladesh on June 09, 2017.
In test cricket, he debuted against Bangladesh at Chattogram, October 09-13, 2013, and played his last test cricket match against Australia at Christchurch on February 20-24, 2016. In T20 international, he debuted against South Africa at Durban on December 21, 2012, and played his last T20 international match against Pakistan in Dubai on November 02, 2018. In T20, he played thirty-one matches and scored 485 runs in just 24 innings at an average of 24.45 at the strike rate of 138.17.