If you are a true cricket fan, you must know about the history of cricket and individual batting performance. Mainly cricket sport has three formats: international (ODI), T20, and Test cricket. Cricket is technically a team sport; there are eleven players on each side. Every cricket player gives their hundred percent on the field to win the match for their respective team.
The cricket sport is worldwide famous, and many countries have their international team, including India, Sri Lanka, South Africa, Australia, and many others. There are many batting records in cricket to be proud of, but what is the best of them all? Can you guess which cricketer has scored the fastest century in ODI cricket? If you do not know, you don't have to worry about it. We will introduce the top two batters who scored the fastest century in ODI cricket.
AB De Villiers
AB de Villiers is a South African player known as a 360-degree player because of his batting style. He is known as the 360-degree player because he scored runs all around the stadium, whether it is on the leg side, offside, cover, mid-on, mid-off, and point. AB de Villiers is one of the greatest one-day international batsmen of all time. He scored many runs in his ODI career, broke some unbreakable records, and reached the milestone with his batting performance.
He also captained the South Africa team in his time. When he was in the form, bowlers were frightened to bowl him. He is such a breakable record player and has achieved lots of records in his cricketing career.
Some records include the fastest and youngest South African batters to reach 1000 runs in test cricket after Graeme Pollack. He also holds the record of scoring the fastest fifty and century in ODI cricket. He took only 31 balls to score 100 runs in one-day international cricket playing against West Indies in Jan 2015.
He has a record of hitting maximum sixes in a one-day international inning along with Rohit Sharma. He also holds the record for fastest 150 runs in ODI cricket just in 64 balls in Feb 2015 against West Indies in the exact match they won by 257 runs. He played only 66 deliveries in that match, scored 162 not out, and made the second-highest world cup total score 408-5.
In his fastest ODI hundred inning, he scored 149 runs in 44 deliveries by hitting 16 sixes and nine fours. Still, in January 2022, he is the fastest century scorer in ODI cricket. He is undoubtedly one of the greatest batsmen in ODI cricket of all time.
CJ Anderson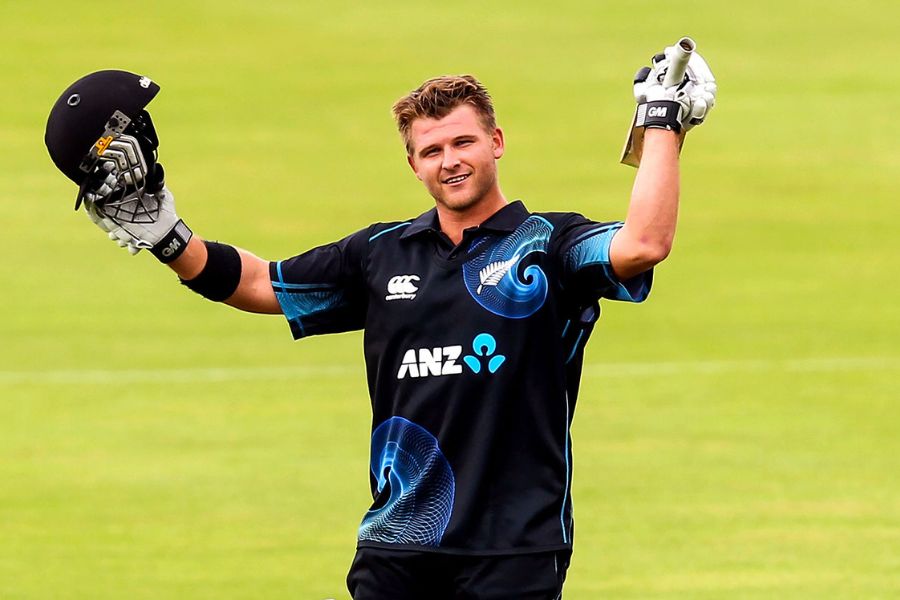 CJ Anderson is a New Zealand cricket team player, and his full name is Corey James Anderson. He is a left-handed batsman, and he is also doing bowling.
His role in the New Zealand cricket team is batting all-rounder. He is playing many matches for the New Zealand cricket team. He played 13 test matches for the New Zealand team and scored 683 runs in 22 innings, and in test cricket, his highest score is 116. In his test cricket career, he hit 94 fours and 14 sixes.
He still holds the record of scoring the second-fastest ODI century. In his fastest ODI century, he took only 36 balls to score a hundred runs against West Indies and broke the Shahid Afridi records. Corey Anderson played many international cricket matches in his career and made many records. In his fastest ODI century inning, he took only 47 balls and scored 131 not out by hitting 14 sixes and six fours.
In his one-day international career, he played 49 matches and scored 1109 runs in 45 innings at an average of 27.72 with one century, and his highest score in ODI cricket is unbeaten 131. He played many first-class cricket matches before his debut in an international cricket match. His debut in one-day international cricket at Cardiff against England June 16, 2013. And played his last ODI match at Cardiff against Bangladesh on June 09, 2017.
In test cricket, he debuted against Bangladesh at Chattogram, October 09-13, 2013, and played his last test cricket match against Australia at Christchurch on February 20-24, 2016. In T20 international, he debuted against South Africa at Durban on December 21, 2012, and played his last T20 international match against Pakistan in Dubai on November 02, 2018. In T20, he played thirty-one matches and scored 485 runs in just 24 innings at an average of 24.45 at the strike rate of 138.17.
Different Types Of Cricket Batting styles and Shots
Cricket is a bat-and-ball game played on a cricket field. It is one of the most famous sports in many countries, especially in India, where it's played more than any other country. It's a game of skill and patience, requiring players to outwit their opponent by observing while they bat. The game can last for hours, so patience is vital when batting. So let's go through a few batting styles and shots Cricket batters use in their gameplay.
Batting in cricket is the art of hitting the ball with perfect judgment and momentum to get the right shot. Cricket batters use different bats and strokes to get the ball out of the problematic defenses. Batting styles vary from player to player, depending on the player's hitting capabilities and the game's situation. It is a trait of a good batter to shift their momentum and batting technique as per the game's requirement. There are commonly two types of batting in cricket, Left and Right-hand batting:
Right-Hand Batting: If you ever watch a cricket match, you'll see that many of the shots are played with the right hand. However, you don't just have to have your left hand and bat; you can generally use whichever side of your body is most comfortable for you. The main advantage for right-handers is that it allows them to hit through flighted deliveries better than their left-handed counterparts. This is because the ball sits up better on the bat, and they have time to adjust to any swing. Throughout the history of cricket, the most successful batters have been right-handers. This is because they are generally more comfortable playing orthodox shots, like off drive and off-spinner, and cut shots from balls that come in on the pads. Take the example of a batsman like Donald Bradman, Sunil Gavaskar, and Sachin Tendulkar. They all have been successful right-hand batsmen.
Left-Hand Batting: Left-handers have an entirely different technique to right-handers. They are more likely to play a cover drive or an on-drive when facing a ball that has come in on the pads. Also, they tend to hook and pull with their left hand and play late cut shots. The main issue for lefties is playing pace bowling, which generally seems to go away from them from the bat face because of the angle of attack. Many left-handed batters face problems against fast bowlers who bowl genuinely fast and have a good variety in their bowling. They have problems picking up the ball coming from around the wicket at them. Nevertheless, there have been many successful left-hand batters in cricket's history. For example, David Warner, Sourav Ganguly, and Brian Lara.
Some Famous Cricket Shots
A player's ability decides how well he plays with his batting style. Some players have played both batting styles, and many players like to play only one of the two. Overall, it is the batter's responsibility to adjust his playing style according to the type and pace of bowling they are facing. Different batters use different types of bats in their cricket game. Some famous shots of cricket are:
Cut Short: The batsman plays the cut shot while facing fast bowlers and medium-paced bowlers. This is a shot played by the batsman to get the ball out of his reach towards the boundary or towards the point region where there should be many fielders. This shot can be played against spin bowlers, but it's risky while playing this shot against spinners because they usually flight these deliveries to make the batsman play a shot, so that I would suggest you not play this shot against spinners.
Hook Shot: This shot aims to get the ball out of the left-handed batsman's reach. It's once again a dangerous shot because of the risk of getting hit by the bat or ball. Also, there is a high probability that you will be caught in front or behind a wicket if you play this shot against fast bowlers. The hook shot is played when the bowler has thrown the bowl between the batter's head and chest.
On Drive: The batsman plays this shot while facing fast bowlers or medium pace bowlers. This is a shot played by the batsman to get the ball out of his reach towards the square leg region where there should not be many fielders. It is a fundamental shot that most players learn during their early training days. Players like Virat Kolhi (India) and Steve Smith (Australia).